Support during hospitalization
In our clinic, we adopt the mother-in-self breast milk which gives only the desire when a baby wants it.Moreover, it supports mother-in-child breastfeeding according to Mother's hope.

Baby's hearing test (ABR inspection) The hearin
g test is carried out to the newborn with the hope of the mother from three days of birth to the discharge.The test time is about 3 t
o 8 minutes, and the nursing nurse in charge of the newborn will inspect the newborn after the baby is asleep at the time.
If you see a result that requires a re-examination, we will introduce you to a specialist.

The mother child's room is carried out according to Mother's hope.If you wish, please contact the staff.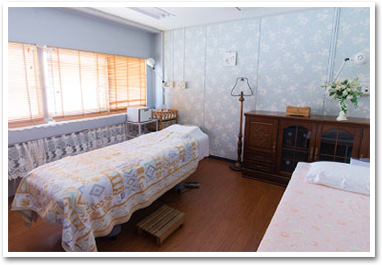 In order to relieve the tension of childbirth and the anxiety of the child to begin with, we offer the service of Aroma Este which can relax and refresh the mood with the rich fragrance of natural essential oils.You can also get hair loss service.

In our clinic, we also have acupuncture treatment, and you can receive the person who is in the hospital.

Each classroom is held for maternity and postpartum mothers.
(Delivery classroom, exercise, baby food classes, etc.)
> Click here to see more